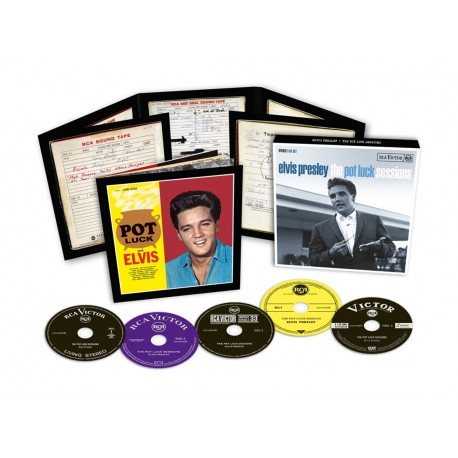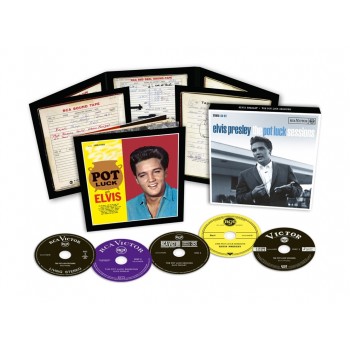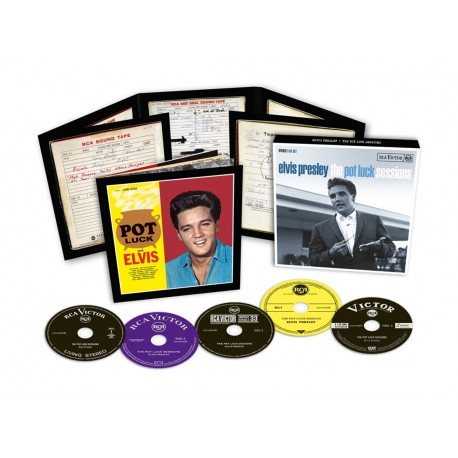  
Elvis Presley - The Pot Luck Sessions - FTD (CD)
COFFRET 5 CD
La série très appréciée de FTD se poursuit avec l'une des sessions d'enregistrement les plus réussies commercialement de la carrière d'Elvis, THE POT LUCK SESSIONS. Il s'agit sans aucun doute du triomphe ultime de Freddy Bienstock, l'arrangeur de chansons de Hill & Range. Des tubes superbement conçus comme "Little Sister", (Marie's The Name) His Latest Flame", "Good Luck Charm" et She's Not You" ont dominé les charts pop du monde entier au début des années 60 et les performances impeccables d'Elvis, accompagné des meilleurs musiciens de Nashville, résonnent encore aujourd'hui, quelque 60 ans plus tard.

Si "Easy Question", "Suspicion", "I'm Yours" et "Kiss Me Quick" étaient sortis en 45 tours pendant cette période fertile, et non des années plus tard, il ne fait aucun doute que chacun d'entre eux aurait pu atteindre le même succès que les autres.

Ce coffret de 5 CD remastérisés comprend un livret de 28 pages contenant un essai perspicace, des photographies rares, des souvenirs et des données d'enregistrement.
DISC 1
AUGUST 1961 SINGLE
01 (Marie's The Name) His Latest Flame      
02 Little Sister
FEBRUARY 1962 SINGLE                                                                                   
03 Good Luck Charm 
04 Anything That's Part Of You       
JUNE 1962 ALBUM MASTERS                                                                                
05 Kiss Me Quick 
06 Just For Old Time Sake                
07 Gonna Get Back Home Somehow            
08 (Such An) Easy Question               
09 I'm Yours        
10 Something Blue            
11 Suspicion        
12 I Feel That I've Known You Forever          
13 Night Rider    
14 Fountain Of Love          
15 That's Someone You Never Forget           
JULY 1962 SINGLE               
16 She's Not You                
17 Just Tell Her Jim Said Hello         
BONUS TRACKS RELEASED 1965
18 You'll Be Gone              
19 For The Millionth And The Last Time                                      
20 I Met Her Today                                                                              
THE JUNE 25,1961 SESSIONS
21 Kiss Me Quick (take 1) 
22 Kiss Me Quick (take 2) 
23 Kiss Me Quick (take 3) 
24 Kiss Me Quick (take 4) 
25 Kiss Me Quick (takes 5-6)                 
26 Kiss Me Quick (take 7) 
27 Kiss Me Quick (takes 8-9)
DISC 2
THE JUNE 25,1961 SESSIONS (Continued)
01 Kiss Me Quick (take 10)                                                           
02 Kiss Me Quick (take 11)                                                             
03 Kiss Me Quick (take 12/M)                                                          
04 That's Someone You Never Forget (take 1) 
05 That's Someone You Never Forget (takes 2-5)                                    
06 That's Someone You Never Forget (takes 6-7)                                  
07 That's Someone You Never Forget (take 8/M)                                  
08 I'm Yours (take 1) 
09 I'm Yours (take 2)                                                                         
10 I'm Yours (takes 3-4) 
11 I'm Yours (take 5)                                                                    
12 I'm Yours (take 6)
13 I'm Yours (workpart takes 1-2)
14 I'm Yours (splice of take 6 & workpart take 2 [undubbed master])                                                                                                       
15 I'm Yours (harmony vocal overdub take 1)                                      
16 I'm Yours (harmony vocal overdub takes 2-3)                                  
17 I'm Yours (harmony vocal overdub take 4)                                       
18 I'm Yours (harmony vocal overdub take 5)                              
19 I'm Yours (harmony vocal overdub take 6)                                  
20 (Marie's The Name) His Latest Flame (take 1 + try out)                                                                      
21 (Marie's The Name) His Latest Flame (take 2)                      
22 (Marie's The Name) His Latest Flame (take 3)                          
23 (Marie's The Name) His Latest Flame (take 4) 
24 (Marie's The Name) His Latest Flame (takes 5-6)                             
25 (Marie's The Name) His Latest Flame (takes 7-8/M)                                                                                      
26 (Marie's The Name) His Latest Flame (takes 9-12) 
DISC 3
THE JUNE 25,1961 SESSIONS (Continued)
01 Little Sister (takes 1-3)                                                                 
02 Little Sister (takes 4-6)                                                                
03 Little Sister (takes 7-9)                                                                
04 Little Sister (take 10)                                                                
05 Little Sister (take 11)                                                                 
06 Little Sister (take 12/M) 
THE OCTOBER 15,1961 SESSIONS
07 For The Millionth And The Last Time (take 1)                                  
08 For The Millionth And The Last Time (take 2) 
09 For The Millionth And The Last Time (takes 3-4)                                                                                         
10 For The Millionth And The Last Time (take 5)                                
11 For The Millionth And The Last Time (take 6)                                
12 For The Millionth And The Last Time (take 7)
13 For The Millionth And The Last Time (take 8) 
14 For The Millionth And The Last Time (takes 9-11)
15 For The Millionth And The Last Time (take 12/M)
16 Good Luck Charm (take 1)                                                           
17 Good Luck Charm (takes 2-3)
18 Good Luck Charm (take 4/M)                                                    
19 Anything That's Part Of You (take 1)
20 Anything That's Part Of You (take 2)                                             
21 Anything That's Part Of You (take 3) 
22 Anything That's Part Of You (takes 4-5)                                      
23 Anything That's Part Of You (takes 6-8)
24 Anything That's Part Of You (take 9)                                            
25 Anything That's Part Of You (take 10/M)
26 I Met Her Today (take 1)                                                              
27 I Met Her Today (takes 2-4)                                                        
28 I Met Her Today (takes 5-6)                                                       
29 I Met Her Today (take 7) 
DISC 4
THE OCTOBER 15,1961 SESSIONS (Continued)
01 I Met Her Today (takes 8-9)                                                        
02 I Met Her Today (takes 10-13)
03 I Met Her Today (take 14)                                                         
04 I Met Her Today (takes 15-16) 
05 I Met Her Today (takes 17-18/M)                                                 
06 I Met Her Today (takes 19-20)                                            
07 Night Rider (take 1)                                                                
08 Night Rider (take 2)                                                             
09 Night Rider (take 3/M) 
THE MARCH 18,1962 SESSIONS
10 Something Blue (take 1)                                                            
11 Something Blue (take 2)                                                             
12 Something Blue (takes 3-4)                                                        
13 Something Blue (takes 5-6)
14 Something Blue (take 7/M)                                                          
15 Gonna Get Back Home Somehow (take 1) 
16 Gonna Get Back Home Somehow (take 2)                                       
17 Gonna Get Back Home Somehow (takes 3-4/alternate master)                                                            
18 Gonna Get Back Home Somehow (take 5)                                                                                                  
19 Gonna Get Back Home Somehow (take 6)                                      
20 Gonna Get Back Home Somehow (take 7/M) 
21 (Such An) Easy Question (takes 1-2)                                           
22 (Such An) Easy Question (take 3)                                            
23 (Such An) Easy Question (takes 4-5/M)                                           
24 Fountain Of Love (takes 1-2)                                                        
25 Fountain Of Love (takes 3-6) 
DISC 5
THE MARCH 18,1962 SESSIONS (Continued)
01 Fountain Of Love (takes 7-9)                                                          
02 Fountain Of Love (take 10/M)
03 Just For Old Time Sake (take 1)                                                  
04 Just For Old Time Sake (takes 2-4)
05 Just For Old Time Sake (take 5/M)                                             
06 Night Rider (takes 1-3) 
07 Night Rider (takes 4-5)                                                               
08 You'll Be Gone (take 1)
09 You'll Be Gone (take 2)                                                               
10 You'll Be Gone (take 3/M)
11 You'll Be Gone (take 4/alternate master)                                     
<span style="font-size:
Fiche technique
Label

Follow That Dream

Format

Coffret CD

Nombre de Disques

5

Référence

FTD 174
16 autres produits dans la même catégorie :