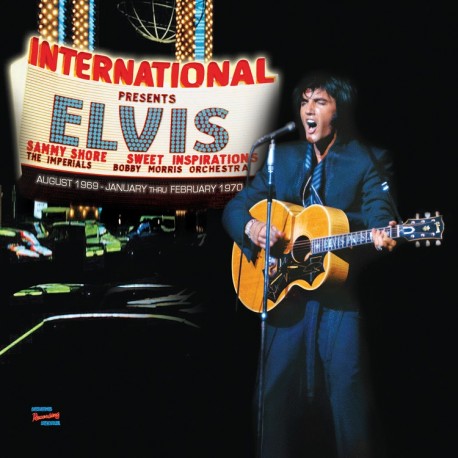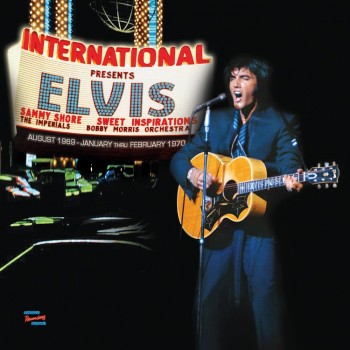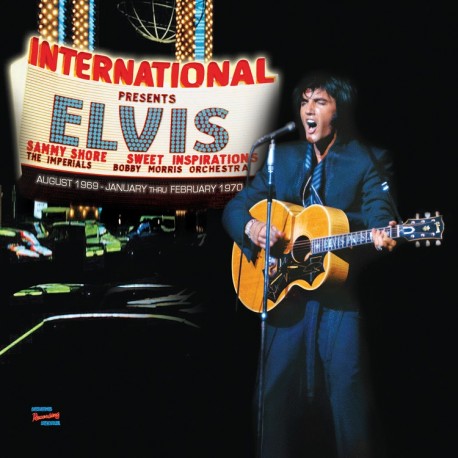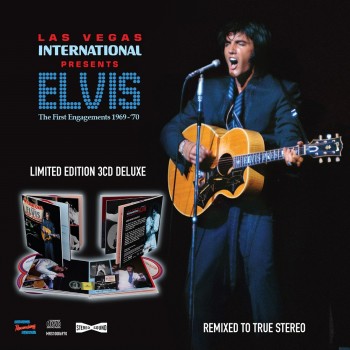  
Elvis Presley - Las Vegas International Presents Elvis - The First Engagements 1969-70 - MRS (CD)
Ce coffret de trois CD contient une sélection de performances captivantes tirées des deux premiers engagements d'Elvis au Las Vegas International Hotel en août 1969 et de janvier à février 1970.
 
Pour la toute première fois, ces enregistrements sur table d'harmonie (autrefois en mono) ont été remastérisés, soigneusement restaurés et remixés en véritable stéréo avec une expertise exceptionnelle, en utilisant les technologies les plus sophistiquées pour obtenir le meilleur son possible. Cette technologie n'est pas accessible aux grandes maisons de disques et les pistes n'ont PAS été traitées électroniquement et rien n'a été ajouté pour rendre ces pistes en véritable stéréo. Le livret d'accompagnement de 40 pages comprend des photos rares et des souvenirs pris lors de ces engagements, ainsi que des notes d'introduction.
CD1 – AUGUST 1969*
01 Blue Suede Shoes
02 I Got A Woman
03 All Shook Up
04 Love Me Tender     
05 Jailhouse Rock/Don't Be Cruel
06 Heartbreak Hotel
07 Hound Dog
08 Memories
09 Mystery Train/Tiger Man
10 Monologue
11 Baby, What You Want Me to Do
12 Are You Lonesome Tonight
13 Yesterday/Hey Jude
14 Introductions
15 In the Ghetto
16 Suspicious Minds
17 What'd I Say
18 Can't Help Falling in Love
*La date exacte de l'enregistrement est inconnue, mais il est probable qu'il s'agisse de début août 1969.
CD2 - OPENING SHOW – 26th JANUARY  1970
01 All Shook Up
02 That´s All Right
03 Proud Mary
04 Don´t Cry Daddy
05 (Let Me be Your) Teddy Bear/Don´t Be Cruel
06 Long Tall Sally
07 Let It Be Me
08 I Can´t Stop Loving You
09 Walk A Mile in My Shoes
10 In the Ghetto
11 True Love Travels on A Gravel Road
12 Sweet Caroline
13 Polk Salad Annie
14 Introductions
15 Kentucky Rain
16 Suspicious Minds
17 Can't Help Falling in Love
CD3 - CLOSING SHOW – 23rd FEBRUARY 1970
01 Opening Vamp/All Shook Up
02 I Got A Woman
03 Long Tall Sally
04 Elvis Talks (1)
05 Don´t Cry Daddy
06 Elvis Talks (2)
07 Hound Dog
08 Love Me Tender
09 Kentucky Rain
10 Let It Be Me
11 I Can't Stop Loving You
12 See See Rider
13 Sweet Caroline
14 Polk Salad Annie
15 Introductions
16 Lawdy Miss Clawdy
17 Heartbreak Hotel
18 Elvis Talks (3)
19 One Night
20 It´s Now or Never
21 Suspicious Minds
22 Elvis Talks (4)
23 Can´t Help Falling in Love
BONUS TRACKS - 19th FEBRUARY 1970 (DINNER SHOW)
24 Don´t Cry Daddy
25 Let it Be Me
26 I Can't Stop Loving You
27 Walk a Mile in My Shoes
MGM Sound Stage 1, Culver City, Los Angeles, California

14 July 1970

01. Words

02. Bridge Over Troubled Water

15 July 1970

03. Stagger Lee

04. Got My Mojo Working

05. I've Lost You

06. Stranger in the Crowd (Rehearsal 1)

07. The Next Step is Love

08. You Don't Have to Say You Love Me

09. Sweet Caroline

10. Yesterday

11. Ghost Riders in the Sky

12. Runaway

13. Peter Gunn Theme

14. One Night

15. Alla En El Rancho Grande

16. That's All Right 03:09    Arthur Crudup

17. Twenty Days & Twenty Nights (Rehearsal 1)

18. Twenty Days & Twenty Nights (Rehearsal 2)

19. Patch It Up

20. Cotton Fields

21. Sylvia

22. Stranger in the Crowd (Rehearsal 2)

CD2

RCA Studios, Hollywood, California

24 July 1970

01. That's All Right

02. I Got a Woman

03. The Wonder of You

04. I've Lost You

05. The Next Step Is Love

06. Stranger in The Crowd

07. You've Lost That Lovin' Feelin' (Rehearsal 1)

08. Something

09. Don't Cry Daddy/Don't Cry Daddy (faster version)

10. You Don't Have to Say You Love Me

11. Polk Salad Annie

12. Bridge Over Troubled Water

13. I Can't Stop Loving You

14. Just Pretend

15. Sweet Caroline

16. Words

17. Suspicious Minds

Bonus Stereo Mix Tracks

18. You've Lost That Lovin' Feelin' (Rehearsal 1)

19. Sweet Caroline

CD3

RCA Studios, Hollywood, CA

24 JULY 1970 (continued)

01. I Just Can't Help Believin' (1)

02. Tomorrow Never Comes

03. Mary in the Morning

04. Twenty Days & Twenty Nights

05. You've Lost That Lovin' Feelin' (Rehearsal 2)

06. I Just Can't Help Believin' (2)

07. Heart of Rome

08. Memories

09. Johnny B. Goode

10. Make the World Go Away

11. Stranger in My Own Hometown

12. I Washed My Hands in Muddy Water

 

MGM Sound Stage 1, Culver City, CA

JULY 29, 1970

13. Elvis Talking

14. Something

15. (Now and Then There's) A Fool Such as I

16. Froggy Went A-Courtin'

17. Such A Night

18. It's Now or Never

19. Hava Nagila
Fiche technique
Label

Memphis Recording

Format

Coffret CD

Nombre de Disques

3
16 autres produits dans la même catégorie :