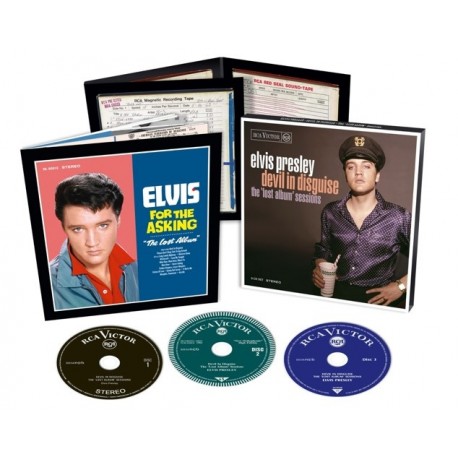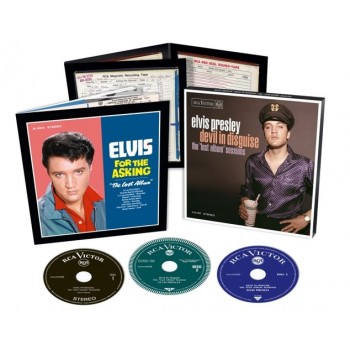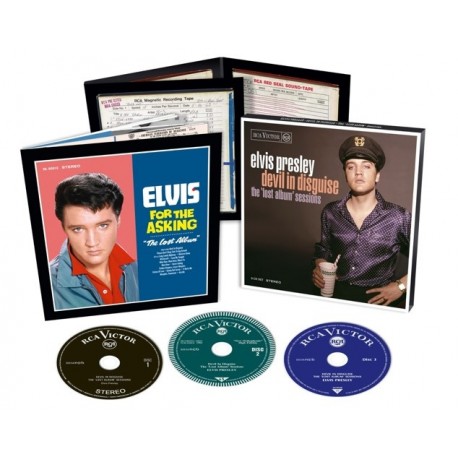  
Elvis Presley - Devil In Disguise The 'Lost Album' Sessions - FTD (CD)
Publié sous la forme d'un digi-pak 3-CD 8". Enregistrées, pour la plupart, sur deux jours en juillet 1963, ces performances variées et excellentes ont fini par être dispersées sur plusieurs sorties RCA Victor entre 1963 et 1968. Ce n'est qu'en 1990 que les chansons sont finalement apparues comme prévu sur un véritable album vinyle RCA.  Près de 60 ans plus tard, FTD présente tous les masters et les chutes disponibles de la ou des sessions.
DISC 1
JUNE 18, 1963 SINGLE
01  (Youíre The) Devil In Disguise                                                     
02  Please Don't Drag That String Around                                            
OCTOBER 1, 1963 SINGLE B-SIDE TO "BOSSA NOVA BABY"
03  Witchcraft   
NOVEMBER 15, 1963 ALBUM TRACKS: FUN IN ACAPULCO
04  Love Me Tonight                                                                                      
05  Slowly But Surely                                                                            
FEBRUARY 10, 1964 SINGLE B-SIDE TO "KISSIN' COUSINS"                                       
06  It Hurts Me                                                                              
APRIL 1964 ALBUM TRACKS: KISSIN' COUSINS                                        
07  Echoes Of Love                                                                           
08  (It's A) Long Lonely Highway                                                      
JULY 14, 1964 SINGLE B-SIDE TO "SUCH A NIGHT"                                       
09  Never Ending                                                                      
SEPTEMBER 22, 1964 SINGLE A-SIDE TO "AIN'T THAT LOVING YOU BABY"                                        
10  Ask Me                                                                                                          
JULY 19, 1965 ALBUM TRACKS: ELVIS FOR EVERYONE                                    
11  Finders Keepers, Losers Weepers                                                         
12  Memphis, Tennessee                                                                   
DECEMBER 14, 1965 SINGLE B-SIDE TO "TELL ME WHY"                                     
13  Blue River                                                                            
JUNE 1967 ALBUM TRACK: DOUBLE TROUBLE                                 
14  What Now, What Next, Where To                                             
MAY 20, 1968 ALBUM TRACK: SPEEDWAY
15  Western Union                                                                      
DISC 2
THE MAY 26,1963 SESSIONS
01  Echoes Of Love (take 1)                                                                
02  Echoes Of Love (takes 2-3)                                                        
03  Echoes Of Love (takes 4-7)                                                            
04  Echoes Of Love (take 8)                                                           
05  Echoes Of Love (takes 9-10/M)                                                   
06  Please Donít Drag That String Around (take 1)     
07  Please Donít Drag That String Around (take 2)                                                                                   
08  Please Donít Drag That String Around (takes 3-5)                                                                                          
09  Please Donít Drag That String Around (take 6/M)                                                                                           
10  (Youíre The) Devil In Disguise (takes 1-3)                                    
11  (Youíre The) Devil In Disguise (takes 4-6/M)                                       
12  Never Ending (take 1)                   
13  Never Ending (takes 2-3/M)                                                    
14  What Now, What Next, Where To (take 1/M)                                                                                    
15  Witchcraft (take 1)                                                                     
16  Witchcraft (take 2)                                                                    
17  Witchcraft (take 3/M)                                                                 
18  Finders Keepers, Losers Weepers (take 1)                                         
19  Finders Keepers, Losers Weepers (take 2)                                     
20  Finders Keepers, Losers Weepers (take 3/M)                                                                                      
21  Love Me Tonight (take 1)                                  
22  Love Me Tonight (takes 2-4)                                                       
23  Love Me Tonight (take 5)                                                             
24  Love Me Tonight (takes 6-8/M)
DISC 3
THE MAY 27,1963 SESSIONS
01  Memphis, Tennessee (take 1)                                                       
02  Memphis, Tennessee (take 2/M)                                                  
03  (It's A) Long Lonely Highway (take 1) (single master, B-side to I'm Yours)                                                   
04  (It's A) Long Lonely Highway (take 2/M)                                                                                
05  Ask Me (take 1)                                 
06  Ask Me (take 2) (alternate master)                                                     
07  Western Union (take 1)
08  Western Union (takes 2-3)                                                      
09  Western Union (take 4/M)                                                           
10  Slowly But Surely (take 1)                                                         
11  Slowly But Surely (takes 2-4)                                                      
12  Slowly But Surely (take 5/M)                                                        
13  Blue River (takes 1-2)                                                                   
14  Ask Me (takes 3-4)      
15  Ask Me (takes 5-6/M) 
THE JANUARY 12,1964 SESSIONS
16  Memphis, Tennessee (take 1)                                                       
17  Memphis, Tennessee (takes 2,3,5)                                              
18  Memphis, Tennessee (take 6/M)                                                 
19  Ask Me (takes 1-2)                                                              
20  Ask Me (take 3)                                                                         
21  Ask Me (takes 4-7)                                                                   
22  Ask Me (takes 8-9) 
23  Ask Me (takes 10-11/M)                                                            
24  It Hurts Me (take 1)
25  It Hurts Me (takes 2-5/M)
<!-- [if gte mso 9]> <w:LsdException Locked="false" Priorit
Fiche technique
Label

Follow That Dream

Format

Coffret CD

Nombre de Disques

3

Référence

FTD 178
16 autres produits dans la même catégorie :