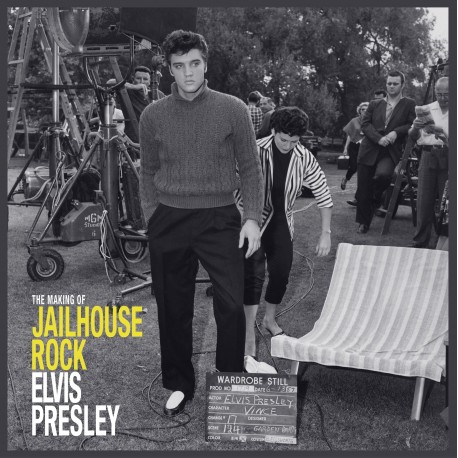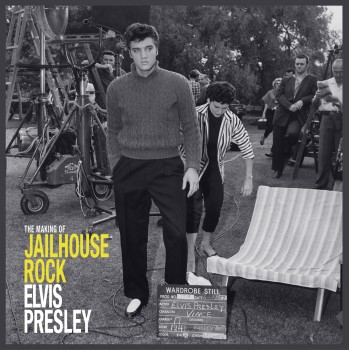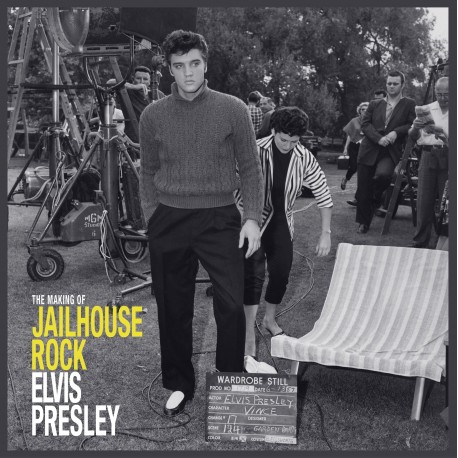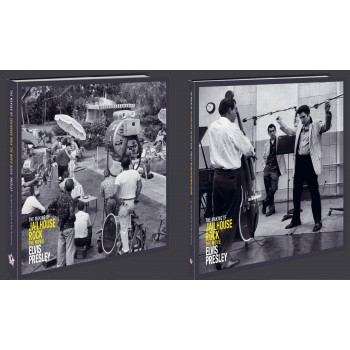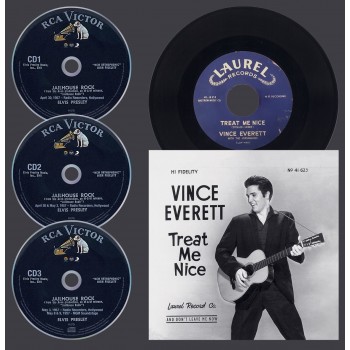  
Elvis Presley - The Making Of Jailhouse Rock The Movie - FTD (2 Livres + 3 CD + 1 Vinyle 7'')
COFFRET COLLECTOR FTD
2 LIVRES + 3 CD + 1 VINYLE 7''
David English et Pål Granlund vous présentent l'histoire ultime de la création du film Jailhouse Rock de la MGM avec Elvis Presley et Judy Tyler. Cette ultime édition de collection comprend deux livres cartonnés, qui donnent un aperçu fascinant et complet de la réalisation du film, du scénario à l'écran.   Elle comprend également trois disques compacts et un 45 tours en vinyle.
LE TOURNAGE DE JAILHOUSE ROCK LE FILM :
Livre de luxe cartonné de style café contenant 365 pages avec de nombreuses photographies nouvellement découvertes, des détails sur les scènes supprimées, des pages du scénario, le calendrier de tournage, des mémos, des contrats et des souvenirs des acteurs et de l'équipe.

LE MAKING OF DE JAILHOUSE ROCK THE MUSIC :
Contient 85 pages de photos, de documents et d'informations détaillées sur les sessions, y compris des pages d'un journal de session d'enregistrement MGM récemment découvert.

3 x DISQUES COMPACT
Comprenant l'intégralité des sessions d'enregistrement mixées pour la première fois à partir des bandes binaurales originales en mono, dans l'ordre d'enregistrement.

Publiées pour la première fois - Les prises complètes de la version instrumentale de
(You're So Square) Baby I Don't Care, avec Elvis à la guitare basse.

Un vinyle 45 tours spécial pour les collectionneurs, avec une pochette illustrée recréant le single Treat Me Nice de Vince Everett tel que vu dans le film Jailhouse Rock.
JAILHOUSE ROCK CD 1
April 30, 1957 – Radio Recorders, Hollywood
01. Jailhouse Rock
        (2001) takes 1-4
02. Jailhouse Rock
      (2001) take 5
03. Jailhouse Rock
      (2001) take 6
04. Jailhouse Rock
      (2001) takes 7, 8
05. Jailhouse Rock
      (2002) (Ending) takes 1, 2
06. Treat Me Nice
      (2003) (First movie version) takes 1-3
07. Treat Me Nice
         (2003) (First movie version) takes 4, 5
08. Treat Me Nice
        (2003) (First movie version) takes 6, 7
09. Treat Me Nice
        (2003) (First movie version) takes 8, 9
10. Treat Me Nice
        (2003) (First movie version) takes 10-13
11. Treat Me Nice
        (2003) (First movie version) takes 14-15
12. Treat Me Nice
        (2003) (First movie version) takes 16-19
13. Young And Beautiful
        (2004) (Record version) takes 1-3
14. Young And Beautiful
        (2004) (Record version) takes 4, 5
15. Young And Beautiful
        (2004) (Record version) take 6
16. Young And Beautiful
        (2004) (Record version) takes 7, 8
17. Young And Beautiful
        (2004) (Record version) takes 9-11
18. Young And Beautiful
        (2004) (Record version) take 12
19. Young And Beautiful
       (2004) (Record version) takes 13-18
20. Young And Beautiful
      (2004) (Record version) take 19
21. Young And Beautiful
        (2004) (Record version) takes 20-22
22. Young And Beautiful
        (2005) (Solo / Jail version) take 1
23. Young And Beautiful
        (2005) (Solo / Jail version) take 2
24. Young And Beautiful
        (2005) (Solo / Jail version) take 3
JAILHOUSE ROCK CD 2
April 30, 1957 – Radio Recorders, Hollywood
01. Young And Beautiful
        (2006) (Florita Club version) take 1
02. Young And Beautiful
      (2006) (Florita Club version) take 2
03. Young And Beautiful
        (2006) (Florita Club version) takes 3, 4
04. Young And Beautiful
        (2006) (Florita Club version) takes 5, 6
05. Young And Beautiful
        (2006) (Florita Club version) take 7
May 3, 1957 – Radio Recorders, Hollywood
06. Treat Me Nice
        (2008) (Second movie version) takes 1, 2
07. Treat Me Nice
      (2008) (Second movie version) takes 3-5
08. Treat Me Nice
        (2008) (Second movie version) take 6
09. Treat Me Nice
        (2008) (Second movie version) take 7
10. Treat Me Nice
        (2008) (Second movie version) take 8
11. Treat Me Nice
        (2008) (Second movie version) takes 9, 10
12. Treat Me Nice
        (2008) (Second movie version) take 11
13. Treat Me Nice
        (2008) (Second movie version) takes 12, 13
14. I Want To Be Free
        (2009) (Prison TV version) takes 1-4
15. I Want To Be Free
        (2009) (Prison TV version) takes 5, 6
16. I Want To Be Free
       (2009) (Prison TV version) takes 7-9
17. I Want To Be Free
       (2009) (Prison TV version) takes 10
18. I Want To Be Free
        (2009) (Prison TV version) take 11
19. I Want To Be Free
        (2009) (Prison TV version) take 12
20. I Want To Be Free
        (2009) (Prison TV version) take 13
21. I Want To Be Free
        (2010) (Record version) takes 1-8
22. I Want To Be Free
      (2010) (Record version) take 9
23. I Want To Be Free
        (2011) (First ending) takes 1, 2
24. I Want To Be Free
        (2012) (Second ending) takes 1-5
25. I Want To Be Free
(2010) (Record version) takes 10, 11
JAILHOUSE ROCK CD 3
May 3, 1957 – Radio Recorders, Hollywood
01. (You're So Square) Baby I Don't Care*
        (2013) (Rhythm track only) takes 1, 2
02. (You're So Square) Baby I Don't Care*
        (2013) (Rhythm track only) take 3
03. (You're So Square) Baby I Don't Care*
        (2013) (Rhythm track only) takes 4-7
04. (You're So Square) Baby I Don't Care*
        (2013) (Rhythm track only) takes 8, 9
05. (You're So Square) Baby I Don't Care*
        (2013) (Rhythm track only) takes 10-14
06. (You're So Square) Baby I Don't Care*
        (2013) (Rhythm track only) takes 15, 16
07. (You're So Square) Baby I Don't Care
        (2015) (First vocal overdub) take 1
08. (You're So Square) Baby I Don't Care
        (2015) (First vocal overdub) takes 2-4
09. Don't Leave Me Now
        (2016) (First version) take 1
10. Don't Leave Me Now
        (2016) (First version) take 2
11. Don't Leave Me Now
        (2017) (Second version) takes 1-6
12. Don't Leave Me Now
        (2017) (Second version) takes 7, 8
13. Don't Leave Me Now
        (2017) (Second version) takes 9, 10
14. Don't Leave Me Now
        (2017) (Second version) takes 11-13
15. Don't Leave Me Now
        (2017) (Second version) takes 14-18
16. Don't Leave Me Now
        (2017) (Second version) takes 19 -21
Fiche technique
Label

Follow That Dream

Type

Livre + Vinyle + CD

Nombre de Disques

4
16 autres produits dans la même catégorie :